Climate Change Inaction and Relationship
By Irina Feygina
Climate Change is at Our Doorstep.  We have all the tools needed to ameliorate, and possibly reverse, the human impact on the climate.  Our economic and human resources, capacity for technological innovation, and ability to coordinate and learn are immense, and if harnessed toward tackling this issue we can turn things around.  But we don't.  Why are we failing to meet this challenge with the wisdom, courage, and community spirit that it requires?  How can we shift toward action and support adaptive responses?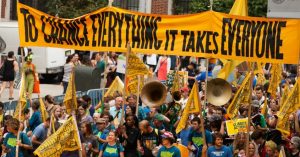 Relationships Underlie our Responses to the Climate Crisis
We tend to envision climate change as a multitude of measurable trends: increasing greenhouse gas emissions, global temperatures, climate variability and extreme weather events, loss of nature and species extinction, sea level rise and desertification – all leading to destructive impacts on agriculture, infrastructure, cities, communities, lives.
Yet, our responses to climate change and barriers to action are driven by a different layer of experience, one Processwork calls "the Dreaming".  It is comprised of individual subjective experiences, perceptions, and interpretations – our inner, unique, authentic world from which our behavior stems.  Understandably, many who want to engage politicians and the public with climate change offer facts and scientific knowledge to convey the severity of the risks and impacts.  Yet, this approach has not succeeded because it has not recognized and addressed the barriers at the dreaming level.
In many years of learning about and attempting to address climate change inaction, I have discovered that beneath the resistance is a longing and profound need for relationship.  I offer this insight as a tool to work with climate change differently, in a way that connects rather than alienates people.
Climate Inaction Stems from the Need to Belong
Our fundamental motive, which drives much of our behavior, is the need to belong: to be an accepted and valued member of a group, welcomed and desired, loved and included in something bigger.  Our relationships may be with institutions, communities, families, friends, God or spiritual entities, animals, nature, ourselves.  For most people, relationships form the heart of our lives, and offer meaning and purpose – and we are willing to go to great lengths to protect them.
This becomes a key impediment to accepting and addressing climate change, which threatens the very fabric of our society, and the well-being of those we love.  Climate change brings the most fundamental facets of our socioeconomic systems into question – the reliance on industry, technology, and the notion of progress, and reveals their unsustainability.  Those strongly identified with and psychologically invested in these systems will do anything to protect them, and are likely to engage in denial of climate change and resistance to solutions.  This dynamic is effectively exploited by an organized, extensively funded, shadow political effort to stymie action and sow doubt about the science of climate change.
On the other hand, those who are willing to acknowledge the reality of climate change often fail to see its relevance and proximity to their lives and the people they care about.  If they do, they may be unable to take action due to overwhelming feelings of fear, powerlessness, and inefficacy in the face of this enormous challenge.  The absence of a coordinated response spearheaded by political leadership and inclusive of the public leaves a void where a shared reality is needed.  People are left without a coherent vision nor a path toward engagement which is feasible and meaningful in their lives.
The Key to Overcoming Disengagement is Relationship

Climate skepticism and complacency are both about belonging.  The skeptics perceive a conflict between responding to climate change and protecting the economic and political institutions they identify with and depend on.  The complacent prioritize responsibilities to the relationships that comprise their lives, and are lost without a community foundation for engagement with climate change.  For both groups, responses driven by identity, relationship, and community (or lack thereof) prevail over risks and scientific fact.
Consequently, to work on climate change effectively is to work on these relational processes.  Help the skeptical undo the perceived conflict and harness their desire to protect the system by reframing solutions as a way to uphold what people love and feel attached to.  Help the complacent and disengaged connect climate change to the relationships they care about – their children, friends, neighborhoods, work. 
Make climate solutions consistent with people's values and aspirations.  Build community and empower through shared engagement and successes.
Not only is relationship at the root of inaction, it is also at the root of action.  People align their behaviors to social norms, as a way of fitting in and being accepted.  Social norms are the most powerful driver of changing behaviors toward sustainability.  Adopting clean energy technologies (e.g. solar panels) is most strongly predicted by how many neighbors have done so, not price.  People are most effectively convinced to reduce water and electricity usage through learning that other people in their locality are doing so.  The burgeoning social resistance of the youth to governmental inaction is driven by connection to members and identity with the movement. 
The Paris Accords were successful after decades of failed international climate negotiations as a result of dedicated relationship building and dialogue among the world's nations.
Processwork Facilitates Deeper Relationships across Diversity
There are many tools that Processwork can offer for supporting relationship dynamics in the context of climate change.  I am beginning to explore ways to bring these tools to climate organizations and groups, and trust these attempts will be my teacher in how to best draw on Processwork to support the Dreaming. But here are some thoughts.  As facilitators, we strive toward an inclusive attitude that honors and recognizes all perspectives – even ones we experience as disturbing, unknown, or frightening.  When conflicting sides encounter and recognize each other in this integrative way, a foundation is created for a deeper conversation, in which each side can recognize and acknowledge the other.  This can give rise to solutions that are informed by both facts and a deeper dreaming, and foster relationship across difference.
Processwork teaches us to embrace conflict, adversity, and wounds, and trust that listening deeply will reveal what we need to know and show the path forward.  By learning to follow and trust the process we discover our unique contributions and styles of working with complex situations, and can offer support to others for deepening personal growth, strengthening relationships, and building community.  It also offers approaches for supporting team dynamics and interpersonal difficulties within groups and addressing the insidious state of hopelessness and burnout that often arise when tackling entrenched challenges.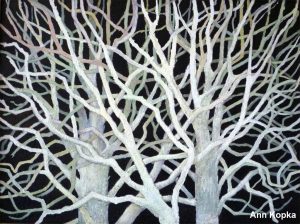 Exploring the Essence and Doorways into Growth
Processwork also invites us to discover the essence and explore the mystery of climate change – what is it teaching us and what doors is it opening?  How is it challenging us to create meaning in this unknown landscape?  What spiritual insights and growth is it demanding of us?  Going to the essence offers a detached viewpoint from which we can step out of the ever-widening polarization and perhaps discover a new sense of interconnectedness.  It can also help cultivate hope, resilience, and empowerment.
It is time we listen to the dreaming behind climate change inaction and recognize that our responses are driven by belonging, identity, and relationship.  We have much to offer in recognizing, holding, and healing these relational processes, and moving from polarization and alienation toward community and hope.
by Irina Feygina, PhD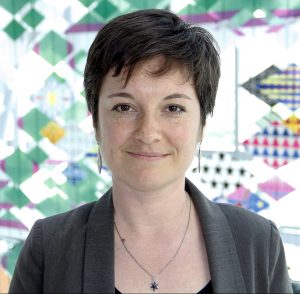 Irina Feygina is a process-oriented facilitator and psychologist who supports individuals and groups to deepen self-awareness, strengthen relationships and communication, and embrace conflict as a doorway into discovery and transformation.  Her passion is working on the human dimensions of climate change – conflict and cooperation, skepticism and engagement, and holding space for complex personal and community processes around this vast challenge.  She has worked in government, nonprofits, and academia, and is currently developing approaches to climate conflict that combine insights from Processwork and behavioral sciences.  Irina holds a PhD in social psychology and is completing her Diploma in Process-oriented facilitation.
LinkedIn Profile
Publications, Talks, and Resources
Photo credit: South Bend Voice on flickr
Image credit: Ann Kopka; Entwined