CHILDMIND – FLUIDMIND IN ART with Amy Mindell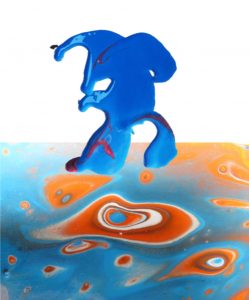 Wednesdays
Class 1 Oct 2, 2019
Class 2 Oct 9, 2019
9:30am – 12:30pm
Early Registration Fee: $108 (by Sep 18th)
Regular Registration Fee: $120 (after Sep 18th)
Explore your ChildMind, that is, a most fluid, free, and creative part of you! Through simple and fun exercises, you'll experience the ongoing creativity of your dreaming process and the teachings it brings for your life. Special focus will be on the experience of FLOW, a most basic element of Process Work.
In the 1st class, we'll explore simple (and sometimes silly!) inner work exercises using basic craft materials and paint. The 2nd class is devoted entirely to my latest passion: Process oriented fluid painting. If you ever wanted to learn about fluidity and the sensation of flow– this is it—in art! It's an amazing and exciting experience!
                                       No art experience necessary!
Note: If possible, please sign up 2 weeks early, in order for me to get the supplies together.
Additional cost for materials:
For those attending just the first class, $5. $10 for day 2 (material fees will be collected on the day of each class – please being cash or check).
CHILDMIND – FLUIDMIND IN ART


October 2, 2019 - October 9, 2019




9:30 am - 12:30 pm