Future of Processwork
Arny Mindell's Winter 2019 Friday Classes
The Essence and Spirit in the Future of Processwork.
Our Connection to Dark Matter, Clairvoyance and Everyday Life
Fridays: Feb 1st, Feb 8th, 3.30-6.30pm
Class 1: Friday Feb 1st, 3.30 – 6.30pm
 PW's ORIGIN and ESSENCE SPIRIT.
The MYSTERIOUS Taoist +Space-time TEACHER
Class 2: Friday Feb 8th, 3.30 – 6.30pm
The TAO and CLAIRVOYANCE of  RELATIONSHIP 
including PW's Earth and Universe Based Essence Connection
What to expect
In his Friday classes, Arnold Mindell, the founder of Processwork, provides an interactive presentation on his latest research, introducing new exercises and techniques to apply in your inner and outer life. Arny demonstrates and models the techniques with a class participant, and then all participants have an opportunity to practice the experiential techniques with a partner, finishing up with shared learnings, reflections and questions in the large group.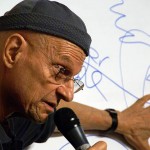 All participants are invited to an email discussion group with Arny for the duration of the series so they can ask questions and interact between class sessions.
Participation Options: In Person, Livestream, Audio File Download
Click here to find out more about distance participation options.
PWI currently uses the Zoom webinar platform for livestream access to classes.  Participants should ensure they have good quality internet access to get the best experience. After registration you will be sent a direct link for online streaming access to your course, one week prior to course commencement.  Please contact PWI if you have any questions – we are happy to help you get set up. 
Audio File download information is sent out within 24 hours of the completion of each class session. 
In person or livestream registrants who wish to get a copy of the Audio Recording may choose ADD AUDIO FILE for an additional $20.
Course Fees
| | |
| --- | --- |
| Early Registration by Jan 18th | $108 |
| Registration – full fee | $120 |
PWI Members receive a 10% discount – click here to find out more about membership. 
Participants may register to attend a single class in the series – please contact pwi@processwork.org or call 503 223 8188 to register for an individual class.
Class 1


February 1, 2019




3:30 pm - 6:30 pm

Class 2


February 8, 2019




3:30 pm - 6:30 pm