Book Launch: Dreaming Into Community – A Guide Book to Worldwork
Online Book Launch!
Join us to celebrate a very special Graphic Novel
Dreaming Into Community, A Guide Book to Worldwork
By Venetia Bouronikou and Lynn Lobo
Friday, October 2nd
8:30PM – 10:00PM (PDT US & Canada)
Please RSVP by registering below!
Opening and Launch: Julia Wolfson and
Nader Shabahangi

(Eldership Academy Press)
Find out about the creative process: Anne Murphy with Venetia and Lynn
Questions from the audience
All Welcome!
Worldwork is an awareness attitude for working with communities, small and large groups. It was developed by Arnold Mindell, founder of Process Work in the late 1970s and 1980s. Worldwork also refers to an experiential training in conflict work, facilitation and community building. It first took place as a seminar in 1991 and is held by the International Association of Process Oriented Psychology (IAPOP) every 2-3 years.
Get a glimpse of how process-oriented group work is facilitated
Feel the atmosphere of Worldwork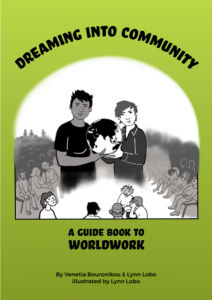 For Worldwork, people gather from around the world for a 6-10 day event, to process important issues and hold the tensions within our world. Conflicts are brought forth and facilitated by a trained and dedicated staff. The aim is to create deeper relationships and understanding by reaching some temporary resolution. The gathering is culturally and linguistically diverse. Everybody's story matters. The issues that arise are largely determined by the life concerns of people who attend, as well as the location on this planet we share. Human history on this earth shapes the interactions that are focused on. As we understand each other more, something deep in us is healed.
This graphic novel is an analysis and a creative graphic documentation of the social issues processed during Worldwork Greece 2017, told through the relationship between the authors. Venetia and Lynn host us as we dive into three large group processes that took place. Each chapter represents a topic as processed by the group of participants and facilitators.  This graphic novel is a small taste of a rich experience.
Topics include:
The financial crisis in Greece and the EU
Refugees and Borders
Capitalism and Slavery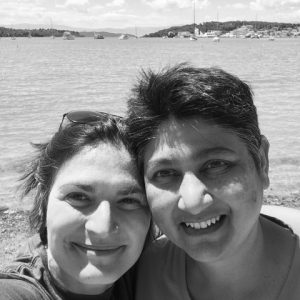 VENETIA BOURONIKOU, MAPW, Dip. PW.
Venetia is a psychologist and a certified process worker. She has 20 years of experience as a therapist and a group facilitator and trainer. She is passionate about Worldwork and the interconnectedness of personal and social change. Venetia loves big trees and deep blue waters.
LYNN LOBO, MAPW, Dip. PW.
Lynn is a certified process worker and visual artist. Passionate about Worldwork, they offer workshops worldwide on creative practice, climate change and racism. Lynn is also a member of faculty at the Process Work Institute. They spend most of their time painting in their studio and talking to trees in the Australian bush.
USD $12.99 (paperback); USD $9.99 (eBook) Price varies between retailers. eBook available end September.
Venetia and Lynn are delighted to be able to announce that their graphic novel DREAMING INTO COMMUNITY is available in print from most online outlets. With the help of ELDERSHIP ACADEMY PRESS, the book is now available through the book depository, Booktopia, Amazon and many other places.
Lynn and Venetia offer a big thank you to their friends and colleagues, Julia Wolfson and Nader Shabahangi for their warm and welcoming support for their work. Their dream has been to share our work and Worldwork with as many people as possible, and Eldership Academy Press made this possible.
They hope you enjoy revisiting some of the processes at WORLDWORK GREECE.
Here is a link to ELDERSHIP ACADEMY PRESS to find out more and get your copy:
https://eldershipacademypress.org/book/dreaming-into-community/
How to participate
Please RSVP by registering below!
Hope to see you there!
Friday, October 2


October 2, 2020




8:30 pm - 10:00 pm