Childmind
Join Amy Mindell this Fall to explore the unique creativity of your childmind …
The Art, Creativity, And Wisdom Of Your Childmind
With Amy Mindell
2 Wednesday mornings: Sept 19, 26, 2018 – 9:15am-12:15pm
Discover how your childmind, a most playful and creative part of you, is a direct link to your dreaming process and its boundless creativity. In this class, through fun art experiments, you'll learn a lot about yourself without working hard! Expect to create with some basic materials, make magical stories and super simple puppets, explore fun kinds of painting, and more. Don't be surprised when you creations become your greatest teachers! 
No prior art experience necessary! $10 for materials if you join in-person.
Contact: pwi@processwork.org , 503 223 8188
About Amy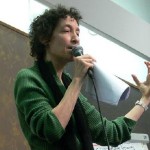 Dr. AMY MINDELL is in private therapeutic practice in Portland, Oregon and teaches in many countries in the world. She helped developed process work in the areas of coma, creativity, and dance.
She holds a M.A. and Ph.D. in psychology and is a diplomate of the Process Oriented Psychology Center of Zurich. She wrote Metaskills: The Spiritual Art of Therapy, Riding the Horse Backwards with Arny, Coma, a Healing Journey, and An Alternative to Therapy as well as papers in professional journals. (Her studies of the feeling skills in therapy, or "metaskills", are at the core of much of her work.). Amy's work with art, music and puppets appears in her newest book The Dreaming Source of Creativity. Her most recent musical CD is First Bloom (she is the singer, music composer, and technical engineer). 
Participation Options: In Person & Live Web Streaming
Classes are held in person at the Process Work Institute, 2049 NW Hoyt St.   
If you plan to register with the live web stream option, we will send you additional info on how to join our online video platform.
Course Fees
| | |
| --- | --- |
| Early Registration by Sep 5 – In-person | $118 (Tuition & $10 materials fee) |
| Early Registration by Sep 5 – Live Web Stream | $108 |
| Registration – In-person | $130 (Tuition & $10 materials fee) |
| Registration – Live Web Stream | $120 |
You may attend just one class in the series – please contact PWI to register for an individual class session.  
PWI Members receive a 10% discount on tuition – click here to find out more about membership. Please call 503 223 8188 or email pwi@processwork.org to register with a member discount.  
September 19, 2018 - September 26, 2018




9:15 am - 12:15 pm