The Facilitator's "CRACKED POT" and UNIQUE STYLE with Amy Mindell
The Facilitator's "CRACKED POT" and UNIQUE STYLE
Instructor: Amy Mindell, Ph.D.
An Online class:
Saturday October 10, 2020
10:00am – 1:00pm (PDT)
We will study how the things that make you unusual are keys to your Unique Facilitator Style!
Therapists, facilitators, teachers, and helpers of all kinds have learned special skills to work with others.  Yet, many feel they have "imperfections" or "CRACKS" that make it difficult to (sometimes) effectively use their skills.
Some of these "imperfections" include troublesome states of mind/body, learning difficulties, or other qualities that make us feel unusual.
In this class, we'll discover how these "imperfections" may not only be disturbances, but rather:
Doorways To Your Most Unique Facilitator Style!
Through presentations and experiential exercises, we'll explore this crucial aspect of your unique style and the way it fills your work with greater energy and creativity.
This class will be useful for both beginning and long-time therapists, facilitators, coaches, students-in-training, teachers, and other types of individual and large group helpers.
Please have some paper and a pen or colored markers with you during the class.
Course Registration
Participation Options:  Livestream, Video Recording
Livestream
PWI currently uses the Zoom webinar platform for livestream access to classes.  Participants should ensure they have good quality internet access to get the best experience. After registration you will be sent a direct link for online streaming access to your course, one week prior to course commencement. 
Please contact PWI if you have any questions – we are happy to help you get set up.
Video Recording
Participants registered for video recording will receive a link to access the recording by the next business day after the class is completed.
Course Fees
Early Registration Fee: $58.50 (by September 26th )
Regular Registration Fee: $65 (after September 26th)
No-one turned away for lack of funds. If you are unable to contribute the course fees, please write to pwi@processwork.org to request a Pay What You Can registration.
About Amy
Dr. Amy Mindell is in private therapeutic practice in Portland, Oregon and teaches in many countries in the world. She helped develop process work in the areas of coma, creativity, dance and facilitator styles.
She holds a M.A. and Ph.D. in psychology and is a diplomate of the Process Oriented Psycholoty Center of Zurich. She has written many books such as, Metaskills: The Spiritual Art of Therapy, The Dreaming Source of Creativity, Alternative to Therapy and her newest book, Your Unique Facilitator Style, as well as papers in professional journals. (Her studies of the feeling skills in therapy, or "metaskills", are at the core of much of her work.). Amy is also an artist, puppet-maker, singer-songwriter, and dancer. Her most recent musical CD is called, First Bloom.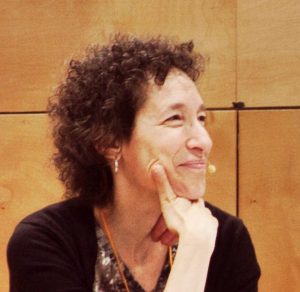 The Facilitator's "CRACKED POT" and UNIQUE STYLE


October 10, 2020




10:00 am - 1:00 pm