REDISCOVER WHY ARE YOU HERE; the Mystery of Aging, Love and Purpose.
Instructor: Arnold Mindell, PhD.

Remember the Mexican Day of the Dead. We age, and die, or do we die?
What is aging, death? What's the meaning of life??
See picture below (Thanks Wikipedia)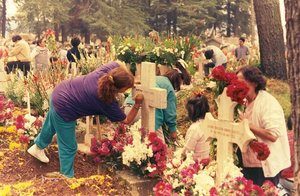 "Scholars trace the origins of the modern Mexican holiday to indigenous observances dating back hundreds of years and to an Aztec festival dedicated to the goddess Mictecacihuatl. The holiday has spread throughout the world, being absorbed into other deep traditions in honor of the dead. It has become a national symbol and as such is taught (for educational purposes) in the nation's schools."
In Processwork, we may ask: "What does all this mean for your life and for process oriented psychology, for your innerwork, relationship and conflict work?
May 24th (3:30-6:30pm): Day 1. Love, Aging, Symptoms, Day of the Dead
May 31st (3:30-6:30pm): Day 2. Your Personal Story: What is Your Worldwork?
Delivery Method:  In person, Livestream, Audio Download
Place: Process Work Institute, 2049 NW Hoyt St., Portland, OR
Price: Regular $120, Early Bird $108 if you register by May 10th (please contact PWI for member pricing and registration.)
Registration: Click View Details button above or contact Process Work Institute, 503 223 8188 or pwi@processwork.edu.
We're sorry, but all tickets sales have ended because the event is expired.
Day 1. Love, Aging, Symptoms, Day of the Dead


May 24, 2019




3:30 pm - 6:30 pm

Day 2. Your Personal Story: What is Your Worldwork?


May 31, 2019




3:30 pm - 6:30 pm