Embodied Facilitation Practices
Embodied Facilitation Practices
With Annie Blair and Carol Zahner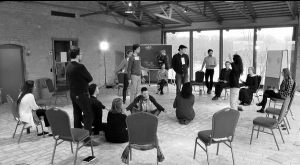 Our feeling, moving, aware bodies are full of wisdom!
February 21-23, 2020 – IN PERSON ONLY
Location: The Process Work Institute
2049 NW Hoyt St.
Portland, OR 97209
Early Bird Registration Fee before January 31: $200 
Regular Registration Fee beginning Feb 1: $250
In this class you will learn how information from the body connects to relationships and shifts in teams and organizations, bringing a deeper understanding to your facilitation style.  You will gain skills to clarify current dynamics and tap into spontaneous, fresh ideas for emerging future directions.
We will explore body sensation and movement through Theory U and the Social Presencing methods developed by Arawana Hayashi, social artist, and Otto Scharmer, MIT economist; founders of the Presencing Institute, https://www.presencing.org. 
These methods cultivate non-verbal perceptions and heighten sensitivity to current experience.  This raises the facilitator's awareness of shifts in the social or contextual field and leads to prototyping seeds of the future.
These practices and more will increase your awareness of both your individual body and the social body.  You will then apply this awareness to study projects or organizational cases brought by participants.
The focus of Embodied Facilitation is to:
Develop our interior condition as facilitators
Give us tools to illuminate the current situation and discover the emerging potential within our projects and organizations.
Benefits:
Cultivate listening to the language of the body.
Develop your body sense of the group field and discover what the group needs next.
Equal participation for:

people whose mother tongue is not English
those less comfortable speaking in groups
people who express themselves more easily non-verbally

Engage successfully with challenging situations such as conflict, overwhelm, or unexpected change.
Friday Feb 21st, 6.30-8.30pm
Saturday Feb 22nd, 10am-5pm
Sunday Feb 23rd, 10am-4pm
Trainers:
Carol Zahner MS, Dipl PW, is a co-founder of Processwork Latin America, adjunct faculty at the Process Work Institute and La Escuela de Trabajo de Procesos in Barcelona.  Her current research explores the combination of Processwork and Social Presencing in individual and group work; and teaching in ways which honor cultural differences.
Annie Blair, MA, Dipl PW, RSME is a certified Processworker who also uses Authentic Movement and Social Presencing to support and accompany individuals and groups who are curious about the ways they move through the world.
Both Annie and Carol are authorized by Arawana Hayashi as teachers of Social Presencing.
February 21, 2020 - February 23, 2020




6:30 pm - 4:00 pm