Theory U: Social Presencing Theater Basics
In this weekend workshop we offer an introduction to Social Presencing Theater within the Theory U framework.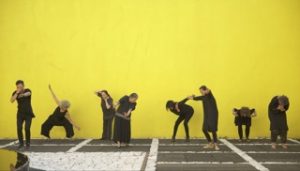 Social Presencing Theater (SPT) is a series of embodied practices for understanding our current reality and uncovering future possibilities, developed by Presencing Institute and articulated as a practical application of Scharmer's Theory U.
Drawing on the movement arts and contemplative traditions, SPT brings to the surface a clearer sense of the relationships, hidden dynamics, and emerging possibilities inherent in a group, organization or larger social system. It allows co-creators in a given system to gain insight into the current situation, seeing potential opportunities for change.
Video about SPT: https://vimeo.com/314787723
Using awareness based movement as a tool to unlock our full body wisdom, we can transform mental and emotional blockages and thereby give way for new insights and fresh, inspired action. It is 'The Art of Making a True Move'.
The workshop is taught by Louise Jorgensen assisted by Annie Blair.
Logistics:
Time: May 4-5, Saturday, 9am-5pm + Sunday, 9am-4pm
Place: Process Work Institute, 2049 NW Hoyt St., Portland, OR
Price: Regular $260, Early bird $230 if you register by April 12
Registration: Click View Details button above or contact Process Work Institute, 503 223 8188 or pwi@processwork.edu.
About Louise:
Louise is a student and a teacher of awareness based dance- and movement modalities. She draws on the essence of movement art forms such as the Japanese avantgarde Butoh Dance, and continues her lifelong apprenticeships with masters Kitt Johnson (DK), Yael Gaathon (IL), Arawana Hayashi (USA) and Maureen Fleming (USA).
Louise is a new mother. She believes that nurturing the family is one of the most important foundations for building healthier societal futures.
Recently, Louise has worked with small non-profits and community change projects in North Eastern USA. She holds an MA in Organizational Anthropology and a BA in Social Science from Aarhus University, Denmark.
About Annie:
Annie is a practitioner of Processwork, Authentic Movement, and Social Presencing Theater. She uses a combination of these body based awareness methods with individuals and groups for self-discovery and creativity. She is a Processwork diplomate and Social Presencing Theater apprentice teacher.
May 4, 2019




9:00 am - 5:00 pm

May 5, 2019




9:00 am - 4:00 pm