Treasure Hunting: Finding Meaning in Life with a Disability
by Sanae Hashimoto
Why me?  Why was I born with a disability?  This question came to me suddenly when I was a teenager, and my journey to find an answer has been on-going since then.  Processwork, with its many tools for discovering meaning in what troubles us, has transformed this journey into a wonderful treasure hunt.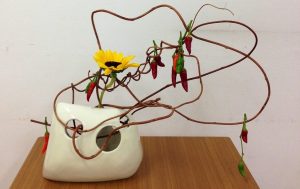 Life with a Disability
I was born with osteogenesis imperfecta, which is a genetic bone disorder characterized by fragile bones that break easily.  Because of this, I am very short and I have been using a wheelchair throughout my life.
In my school days I was always the only child who used a wheelchair or who had such a different stature, but I was rarely bullied.  I was basically a happy kid with full support from my friends and teachers.
Yet I couldn't stop feeling powerless and inferior inside.  "I am a burden for others," was my self-image.  I became a therapist so I could contribute and feel "worth" something, even a little.
The Universe Loves Diversity
I discovered Processwork in 2009 as I searched for a favorable orientation for myself as a therapist.  In 2011, I attended a seminar led by Arny and Amy Mindell in Japan.  During the seminar, one of the participants asked Arny why diversity is important.  With a big smile, Arny simply replied, "Just because the universe loves diversity!"  
That was the moment my self-image changed.  Processwork gave me the tools to shift my identity, and Arny's words helped me see my difference through a wider and more appreciative lens.  
"My disability is a part of diversity," I said to myself, "and I can be proud of myself for contributing to the world with my disability."  
I decided Processwork was the paradigm for me.  I knew it would help me find the answer to my question.  I then began my studies at the Japan Process Work Center.
My Childhood Dream:  Survive to Thrive
In Processwork, the first dream a person remembers from childhood, their childhood dream, is considered a mythical blue-print for their life.  This concept is inherited from Jungian psychology.
I was about three years old when I had this dream.  I dreamt I was having breakfast with my parents and my sister in our dining room.  Beautiful sunshine filled the room and everything seemed peaceful.  Suddenly several black shadows, shaped like men, broke into the house.  They robbed us and started to kill my family.  Their weapons were syringes with no needles but with thick fluid poison inside.  They put the poison in our mouths.  All my family were killed, and I was killed last.
I worked with this dream using Processwork to discover what comes next.  As if directing a movie, I created a sequel to this story.
In the sequel, the black shadows were absorbed into the floor and disappeared.  I wasn't in fact dead, but I woke up somehow transformed by the poison.  I realized what had happened; my parents and my sister were dead, but I was still alive.  I went back to the dining table and ate my breakfast again in the warm sunshine.
The deeper message of my dream is "I survive to thrive."  
My Body Symptom:  A Little Funny Boy
It had always been a little challenging for me to work on my body symptoms with Processwork because the experience seemed too mysterious.  In January 2018, I attended the Winter Intensive Course at the Process Work Institute, and there I finally tried unfolding the meaning in my main body symptom.  
I explored my secondary process; my fragile, soft, and curving bones.  A unique dance emerged, with a figure who was a blend of an octopus and a human being.  This figure became a little funny boy, about six or seven years old.
I, my primary process, told him, "Get away from my body, you are a burden," but he didn't mind at all because he didn't know what a burden was.  There was no concept of burden in his mind.  All he knew was joy.  He replied to me, "Let's play with me and enjoy together.  That's the best!"
I asked him, "How can I trust you?  How can I believe what you say is the truth?"  Then he calmly told me, "How can you not trust me?  I'm in you."  Then I burst into tears.
From Burden to a Part of Diversity
Through these two and many other experiences with my fellow Processwork students and teachers, I'm becoming free from what has felt like an "abuser-abused relationship," with my disability.
For me, like the black shadows in my childhood dream, the abuser within my disability becomes a change-maker who makes my own transformation possible.  
I'm learning how to trust and love myself as well as others, the world, and the universe.  The more I learn, the more joy is brought to me, just as the little funny boy teaches me with my body symptom.  When I welcome my disability, including feelings of powerlessness and inferiority, as a doorway into my personal-growth, I can contribute to the world being more diverse and inclusive.
I don't completely know who I am, but I know I'm not a burden anymore.  I wish to be a change-maker and a thriver for myself and the world. 
I don't know yet if I have the answer to my question, "Why was I born with a disability?" but I'm happy with the mystery now because I want to continue treasure hunting with Processwork.
By Sanae Hashimoto, MEd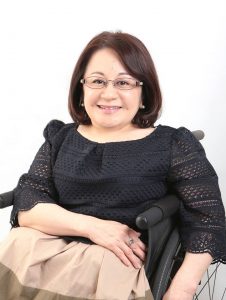 Sanae Hashimoto is a clinical psychologist, certified FJCBCP (Foundation of the Japanese Certification Board for Clinical Psychologists).  She has been working as a student counselor in middle schools and universities for over 15 years, with a special interest in diverse and inclusive education.  She is currently a phase 2 diploma student at the Japan Process Work Center, working on her final project for graduation. 
Photo credit: Ikebana by Sanae Hashimoto