Why Manifestation Doesn't Always Work: A Process Perspective
By Jeanell Innerarity
If you've engaged in personal growth work in the last fifteen years, you've probably dabbled in "manifestation."  Manifestation hit the mainstream with the 2006 release of the documentary The Secret, which featured celebrities, philosophers, and even scientists talking about how they create their own reality by acting like it's already real.  The movie claims that some of society's biggest names have used this "secret" to get to ahead, and the rest of us can do the same.
Life is more Complex
If tuning in to the vibration of our goals is the only thing between us and our ideal reality, then why aren't we there yet?  Did some of us stick the wrong images on our vision boards?  How come manifestation sometimes works, and sometimes doesn't?  I believe the missing piece in this conversation is PROCESS!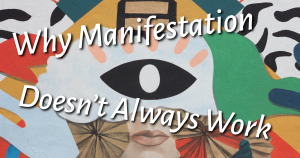 Process, if you know how to track it, is no secret.  The word "process" can be a noun or a verb and applies in many contexts, but it always implies that something is emerging naturally from what came before it.  As a Processworker, I track process by noticing what is more obvious or consciously known (primary), and facilitating opportunities for the less known (secondary) aspects of awareness to emerge.
The Secondary Process
How do I apply this when a client comes to me and says they want to "manifest" something?  The term manifestation gives me a clue: there's a primary aspect of their awareness which has a goal, and a secondary aspect which has another plan entirely!
A client once came to me with enormous career goals.  Already the leader of an international organization, they wanted to manifest more power, money, and status.  However, they were exhausted.  Their shoulders were tied up in knots.  Their relationship and libido suffered.  They had been betrayed in a business deal and felt unable to trust.  Their primary process was success, but their secondary process was rest. 
What they thought they wanted to manifest was one-sided and oversimplified; it did not honor the complexity of their life and character, and was impossible to maintain without serious consequence.  When you marginalize significant aspects of your experience in order to manifest something, the secondary aspects of your process will eventually sabotage your efforts!
All the Isms
But what if what you're honoring your full experience, yet you keep running into roadblocks?  When clients describe this scenario, I often find that classism, racism, homophobia, or other institutionalized biases are at play.  A person tries to manifest their dreams, and the world pushes back against them.
Does this mean they can't get there?  Absolutely not!  With these clients (and within myself) I bring to light the process of internalized oppression—the way in which we repeat to ourselves the same critical and dangerous stories the world has fed us.  In this case, we must first fight the inner oppressor and pick up its power for ourselves!  The outside world may not immediately change, but when we stop agreeing with its insidious and abusive voices we can act with more confidence and at least avoid self-sabotage.  After we've laid a foundation for a less hurtful inner dialogue, we can strategize about how to take action, build alliances, and even change systems in the wider world.
If you experience societal oppression and believe—as many do—that manifesting your dreams is based solely on your own ability to visualize, then you will feel like a personal failure every time your dreams don't come true.  In this case, the culture of manifestation becomes abusive; it tells people that the big isms—sexism, racism, homophobia, classism, etc.—are easy to overcome, thus erasing the pain, challenge, and grief of someone's experience.  Not fertile soil for manifestation!
You Can't Go Against Your Needs
It's also nearly impossible to manifest an intention which overrides a fundamental need.  A classic example shows up in the field of weight loss.  How many millions of people have spent billions of dollars trying to lose weight, only to fail at the outset or gain back more than they lost?  If you eat to "be big" or take up space, to feel safe in your body, to feel free of the sexual gaze, or to experience comfort, then no amount of focusing on thinness will manifest your vision until you can feel these things on your own terms.  Additionally, the cultural emphasis on weight loss is a type of social oppression all its own, so it's important to explore why you might want to lose weight in the first place.
Your True Nature
And finally, there's destiny.  Processwork proposes that we each have a unique path in life: a certain type of trajectory, tendency, and dreaming process which shows up in our earliest childhood dream (or memory) and cycles back throughout our lives.  A sort of personal myth.  To harness the power of that myth is to live out your destiny!
In my earliest childhood dream, I disturb the status quo and wake up terrified of my own power.  Predictably, when I try to conform to the mainstream in my waking life it comes back to bite me;  it's against my nature, which is to use my power to wake people up!  I can't manifest something lasting if it isn't "me;" when I'm true to who I am, extraordinary things manifest themselves in my favor.
Because of the impact of the secondary process, societal oppression, unmet needs, and personal destiny, manifestation doesn't always work, but sometimes it does!  Sometimes, with astonishing quickness and accuracy, you wish for something and get what you wanted.  Is that just dumb luck?  Maybe occasionally!  More often, I'd say it's akin to "going with the flow."  When you learn to track and unfold your own process, when you align your choices with your true nature, and when you notice and act on synchronicities, you get out of your own way.  When you honor your needs and take back the power of the internalized oppressor, you open up possibilities for the intelligent universe to shower you with blessings!  It's just that those blessings might look nothing like what you intended to manifest….
By Jeanell Innerarity, MAPOF, LMT (#22490)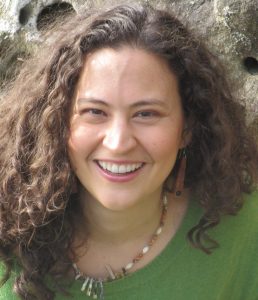 Jeanell Innerarity facilitates personal healing with global impact.  She specializes in integrative work to help clients better understand their personal power through the lenses of ancestry, Earth connection, and somatic awareness.  She is the Founder and CEO of The EcoSpiritual Education Center LLC, where she provides group workshops, one-on-one counseling, and online education focused on personal development interwoven with ecological and social sustainability.  She holds an MA in Process Oriented Facilitation, a BA in Environmental Studies, is certified in Permaculture and Ecovillage Design, and is a Licensed Massage Therapist.  She recently completed her first novel.
Learn more about Jeanell's work at Ecospiritual Education
Image credit: Jeanell Innerarity