800 years young & don't miss our January Intensive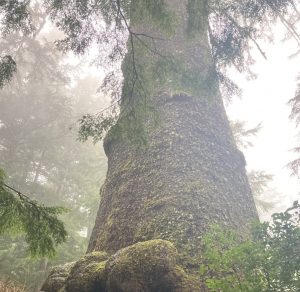 How did you get so big?
I stood in the rain, awed by an 800 year old being rising up through the mist. The low grrrrr of ocean waves crashing not far away, I sobbed quietly, overwhelmed by joy and awe in the Pacific Northwest coastal forest.
Western science has just recently understood that forests are collaborative diverse communities. The visible part of the forest can look like a competition for light, space and nutrients. But underground, the forest is a network of inter-species connections used for support and nourishment.
What scientists call 'mother trees' partner with fungi to pass nutrients, protection from disease, and information exchange that helps the entire forest flourish. This 800 year old giant has lived with generations of indigenous peoples, witnessed the recent arrival of Europeans, felt the steady deforestation of its coastal homeland, all the while nourishing and uplifting the forest community of which it is part.
As we farewell this year and welcome 2021, I am wishing us time to feel our roots and the invisible connections they make. To wonder at the weave of inter-species process that unfolds between and through us.
Could our roots help us transform the intense polarizations of this time?
Could our mother trees hold us through vulnerability, fears and denial and give us the courage to act with "stubborn optimism" for racial justice and a safe climate future?
How have your underground networks nourished you this year?
How
have you been a 'mother tree' to others in your community?
Love
Hellene, from all of us here at the Process Work Institute
Click here for our latest newsletter (December 26,  2020)
Hellene Gronda, Executive Director
Ph.D, PW. Dipl, MA, BSc/BA(Hons)
Hellene has a life-long interest in personal and collective change and has been inspired by Processwork for over 30 years. An experienced leader in government and nonprofit settings she values the deep optimism and courageous spirit of Processwork, and its ability to find creative and unexpected solutions to the most difficult, confusing or inexplicable challenges.