Annual Processwork Winter Intensive
Art by Amy Mindell
Jan 16 – February 3, 2022
online only ~ live and recordings
For anyone looking for a transformational, experiential introduction to the ideas, practices and range of Processwork tools for personal and collective transformation.
Sessions daily 10-1pm and 3-6pm Pacific – each topic is offered in both time options – attend one or both.
Week 1: January 16-22 
Fundamentals of Processwork, Grouplife
Week 2: January 23-29
Dreams, Dreambody, Relationships, Grouplife
Week 3: January 30 – February 3
Dreams, Creativity, Altered States, Grouplife
Join an international teaching team for three weeks of immersive Processwork learning in community!
Teaching Team
Arnold & Amy Mindell

Venetia Bouronikou & Susan Kocen

Lynn Lobo & Hellene Gronda

Suzette Payne

Lily Vassiliou

Jai Tomlin

Errol Ameresekera

Dawn Menken

Pierre Morin

Gary Reiss

Kate Jobe

Ingrid Rose

Kas Robinson
For over three decades, the community of the Process Work Institute of Portland has been hosting a Winter Intensive Course in Processwork.
Many of us first met at these deep, immersive community experiences. Many friendships were forged, professional and intimate relationships were established.
Having lunch, walks in forest park, day trips to the coast, the mountain, the waterfalls, coffee, dinner, dancing, fighting, loving and being amazed and moved by the awesome flow of process.
It takes a lot to gather 30 people in person for five weeks.  And the experience is precious. Irreplaceable.
January 2021 would have been PWI's 36th Annual Winter Intensive
COVID-19 dreaming unfolds for each of us in unique ways. And it has many world channel threads. From the racial inequality of its impacts, to the global connectedness and intensity of its transformational power.
2020 has changed things. It has revealed hard things about our current reality and highlighted the risks and opportunities of our future.
For the Winter Intensive, it has meant not coming together in person. It has meant thinking about a different way to immerse in the dreaming together.
Join us to co-create how to share experiential, deeply transformational, dreaming in community experiences together online.
Join us January 2022, for a COVID 'inspired' online Intensive experience.
---
Come and listen to signals we see in everyday reality and in the world of darkness of the night, that means, from our dreams and pre-dream experiences.
A little bit of history and toward the future when we will safely gather again in person
Annual Winter Intensive Information (January 2020)
The course offers a unique opportunity to learn Processwork in an intensive format and within an international group setting. The course includes Processwork's many applications and its most recent developments, and it is designed as an adult learning event. Participants will learn and study together by means of theory, experiential exercises, and group processes. Since the course attracts students from many nationalities, ethnic groups, and religious backgrounds, issues such as multiculturalism, diversity, and community building are part of the learning experience.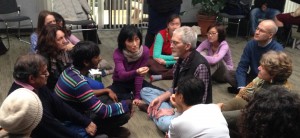 For more information, contact our Outreach Coordinator: outreach@processwork.org or please call 503.223.8188
What is Processwork?
Processwork is an awareness practice that follows nature and the unique expression of what is trying to happen. It is an innovative approach to individual and collective change, which brings psychology, spirituality, social activism, and creative expression together into a single paradigm. Processwork was developed in the 1970s and 80s by Dr. Arnold Mindell. At the time, Dr. Mindell was a Jungian analyst, who began researching illness as a meaningful expression of the unconscious mind. He discovered that the dreaming process manifests not only in nighttime dreams but also in physical symptoms, relationship difficulties, addictions, extreme states of consciousness, and social tensions. The Processwork paradigm believes that approaching these dreamlike processes with openness and respect can lead to new insights and create energetic shifts that are vital for our development. With its roots in Jungian psychology, philosophical Taoism, and modern physics, Processwork is based on the assumption that the solution to a problem is contained within the disturbance itself, and that within the problems of today lie solutions for tomorrow. Recent developments in Processwork theory have deepened the connection between quantum physics and process-oriented awareness training through the concepts of sentient reality and earth-based psychology.
The Intensive Course
The Intensive course offers a comprehensive beginning training in essential Processwork philosophy, skills, and metaskills and includes topics such as dream work, body work, relationship work, inner work, large group work, and working with non-ordinary states of consciousness and addictions. Throughout the five weeks, classes are held Mondays-Fridays and are taught by different teaching teams. Morning classes focus on basic applications of Processwork, and afternoon classes help participants to further their understanding of the material by focusing on theory, inner work, group process, and skills training. No classes are held on Friday mornings, but the Intensive course joins with the larger community for Arny Mindell's class on Friday afternoons. This provides Intensive participants and the larger Process Work community with an opportunity to meet. Arny's classes are an integral part of the Intensive course and offer an exciting completion to each week's studies. In addition to classes, each participant will be in a small group that meets twice a week and provides an intimate container for learning and mutual support.
While not included in the price of the tuition, private therapy is highly recommended in order to deepen your personal experience of the large group. Both diplomats and phase two students will be available for scheduling personal therapy sessions.
Past Intensive Participants Share their Experiences
CLICK HERE for more testimonials from students & faculty
The Faculty
Processwork trainers and Diplomates are certified Process-oriented therapists, group facilitators, and teachers, who conduct seminars and training workshops throughout the world. Trainers hold academic degrees in fields such as psychology, medicine, theology, art, physics and other disciplines.
Learn more from some of our faculty…
The course is held at the Process Work Institute, located at 2049 N.W. Hoyt, Portland, Oregon 97209. Classes meet between 9:30 am – 5:30 pm each weekday. 
Check back for more schedule detail in June.
Course Format and Class Descriptions
Classes are held Monday through Friday and are taught by different teaching teams. Each week, the morning will be dedicated to a different application of Processwork. During the afternoons, we will have classes on theory and skill-building. In addition to classes, participants will meet in small groups twice a week which provide an intimate container for further learning, practice, support, and community-building. Arny Mindell's Friday afternoon class is included as part of the Intensive tuition.
Classes
Week 1: Fundamentals of Processwork
During this initial week, focus will be given to creating a sense of community while covering the foundations of the Processwork paradigm and its applications.
Week 2: Bodywork/Symptoms
Working with symptoms and the body is an important application of the tools and techniques of Processwork. During this week, the group will be addressing how to work with symptoms and body experiences, gaining skills in this area through practice and theory.
Week 3: Relationship Work
Relationship Work offers the intensive group an opportunity to explore relationships within the group and to use those as avenues for learning techniques applied in unfolding relationships and their dreaming. Focus will be given to signal awareness, double signals, relationship edges, and levels of relationship work.
Week 4: Movement and Altered States of Consciousness
This week brings in an awareness of movement as a channel of experience and covers ways in which movement can be used in unfolding process. Movement is also connected with altered states of consciousness, giving rise to more unknown far-out states or being a facilitative way of expressing them. Exploring how to approach and work with Extreme States is also part of the curriculum for this week.
Week 5: Integration
In the final week, the learning accumulated during the course will be integrated and made useful for re-entry into everyday life. In addition to integrating personal growth and new insights, the group will be guided to apply Processwork in family and professional life.
Weekly classes
Experiential Processwork (Processwork Lab)
In this Processwork lab class participants will study the nuts and bolts of Processwork through hands on practice, feedback, video study and work in the middle. This is a great opportunity to learn in more detail about signal awareness, amplification, unfolding and how to work with different levels of awareness.
Inner Work and Creativity
The study of inner work is an integral part of learning how to follow a process. When combined with art such as painting, drawing, sculpting, dance, song and music, a rich field is created in which inner work methods can flourish.
Group Process
At least once during each week a group process will be facilitated by the teachers of the week enabling the group to go further in processing issues among participants, and also deepening an understanding and ability to work with world issues.
English Language Proficiency
Expect a multilingual group with very diverse experiences in 
English
, and a process that focuses on understanding one another in large and small group environments. It is up to the participant to ensure a comfortable level of understanding within English conversation and instruction.
Options near PWI abound, and below are a few locations students and Intensive participants have stayed at in previous years. Please contact the location for current rates.
NW Portland Hostel
Offers discounts for Winter Intensive participants!
Located at 425 NW 18th Ave. (corner of 18th & NW Glisan St.), Portland, OR 97209.
Very close to PWI.
To reserve your discounted room, please contact Tracy by email info@nwportlandhostel.com or by phone at 503 241 2783.
The Portland International Guesthouse
The Portland International Guesthouse at 2185 NW Flanders Street, (a few blocks from the center), offers European-style accommodations for the budget minded traveler.  Facilities include six clean, private guestrooms that share three baths.  We also offer a fully furnished, private, one-bedroom garden level apartment.  Call (503)-224-0500.
Hotel DeLuxe
Located at 729 SW 15th Avenue, Portland, OR 07205; a short walk to PWI.
The Inn at Northrup Station
Located at 2025 NW Northrup, Portland, OR 97209, a short walk to PWI
The Park Lane Suites
Located at 809 S.W. King Ave, Portland, OR 97205, a short walk to PWI
Meals
There is a tiny kitchen at the Process Work Institute where participants can prepare lunch. We will provide a list of restaurants in the vicinity of the institute for participants who wish to dine out.
Please register early to allow for planning. An online registration form including a personal statement are required to apply for the Winter Intensive. Your personal statement is a short statement about your background and interest in the Winter Intensive.
Please use the link at the top of this page to complete and submit your registration.  Register early and receive a discount (payment must be received by the early registration deadline).

Full tuition: $3250  ($500 deposit due by Nov 1st or upon registration)
Payment plan option: 3 installments: $500 Nov 1st ; $1375 Nov 30th; $1375 Dec 15th
Tuition must be paid in full by December 15th, 2019.
Early registration: $2900 (Paid in full by November 1, 2019)
Please note that registration for the Winter Intensive does not include accommodation or meals.
Accepted Payment Methods:
Check or money order in US dollars made out to Process Work Institute, PayPal, Wire Transfer, and Credit/Debit Card.
Check or money order made out to Process Work Institute. These can be dropped off or mailed to:  2049 NW Hoyt St. | Portland, OR 97209
To pay using PayPal, Wire Transfer, and Credit/Debit Card, please select this option in your course registration and we will be in touch with further information.
Public Courses Refund Policy:
Please follow this link to view our Public Courses Refund policy
Apply for Work-Study Opportunities here!
PWI offers a limited number of work-study opportunities. These include but are not limited to:
Audio/Visual Support
Cleaning Crew
Key Holder
Teacher Support
Celebration & Kitchen Patrol
To apply for a work study position you must submit:
A brief statement about your financial situation (including income, financial hardship, and amount of tuition reduction requested)
Your top 3 task preferences along with any additional work-study skills you would like to offer.
Please submit your course registration form for the Winter Intensive along with the application for workstudy. Workstudy applications can only be considered along with your course registration.
Diversity Equity and Inclusion: Scholarships
Apply Online for Diversity Equity and Inclusion Scholarships here!
Systemic oppression based on race has devastating impacts on people of color globally.  In recognition of the unfair, historical and present day context of systemic disadvantage, we offer 5 scholarships (50% tuition discount).
Please also submit your course registration form for the Winter Intensive along with the application for this scholarship. Scholarship applications can only be considered along with your course registration.
Information for International Participants
A student visa (F-1 or M-1) is not required to participate in this public program. A tourist visa (visa waiver) or business visa (B-1 or B-2) will be adequate. If you have any questions about traveling to the United States on a visitor visa we encourage you to visit https://travel.state.gov/content/travel/en/us-visas/visa-information-resources/all-visa-categories.html for more information.
International participants can also contact Shay McDonald at shay.mcdonald@processwork.org with any further questions.
If you would like to contribute to our scholarship fund, please indicate this on your registration form and make a check payable to PWI Intensive Course Scholarship Fund.
Special Needs
If you need easily accessible lodging or special assistance, please let us know with your registration. The Process Work Institute is wheelchair accessible.
For More Information
Contact us at the Process Work Institute
Phone: 503-223-8188
E-mail: pwi@processwork.org
The Intensive Course admits and welcomes participants of any race, religion, national or ethnic origin, gender, sexual orientation, and ability.