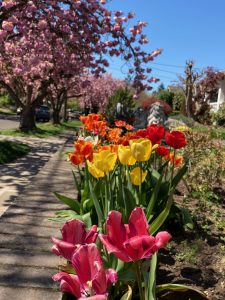 It is definitely spring in Portland, Oregon, and the vibrant colors of tulips demand attention.
At the same time, the tensions of our current moment can threaten to overwhelm our bodies and minds. How are you navigating and supporting yourself through the pressures and urgencies we face?
It has been nearly a year since the killing of George Floyd was captured on video by a brave young woman. This video shook the world and super charged the Black Lives Matter movement. This week, the US justice system brought down a conviction for the police officer who misused their authority and killed the unarmed person in their care.
As processworkers, we know the importance of the witness role in an abuse scene. So often it is a missing or 'ghost' role, or a bystander caught in painful altered states that create paralysis, freezing or flight.
Accountability brings some relief but the work of bringing our witnessing forward in the face of systemic power requires resilience, persistence, and sustained teamwork.
Deep respect is owed to the countless individuals, families and communities working to make change possible.
I hope you find some resources here to support your work and vision for a better world.
Upcoming Events
Join the Dreambody Medicine Forum this Friday April 23, 7 – 8.30pm for an experience of community and teamwork in holding and unfolding the agony, mystery and meaning of our bodies and body symptoms.
Come along to our next monthly webinar where Susan Kocen will explore Childhood Myth and Creativity, Thursday May 6th, 5pm Pacific time. See more details below …
Plus – save the date and don't miss the opportunity to experience Arnold Mindell's open case supervision class, coming up May 21st.
Just three times a year, a special chance to observe Arny working live with class participants on real issues arising in their professional and personal facilitation practice. If you'd like to present in class, write to Arny by May 7th:  moreinfo@aamindell.net (briefly share one sentence about your case)
Sending love from Portland, honoring the original peoples of this land, the people of the Multnomah, Kathlamet, Clackamas, Tumwater, Tualatin Kalapuya, Wasco, Molalla, Cowlitz and Watlala bands of the Chinook, and other tribes who have made their homes along the Columbia River for the last 11,000 years and continue today.
Hellene,
On behalf of all of us at the Process Work Institute
Hellene Gronda, Executive Director
Ph.D, PW. Dipl, MA, BSc/BA(Hons)
Hellene has a life-long interest in personal and collective change and has been inspired by Processwork for over 30 years. An experienced leader in government and nonprofit settings she values the deep optimism and courageous spirit of Processwork, and its ability to find creative and unexpected solutions to the most difficult, confusing or inexplicable challenges.