Katje Wagner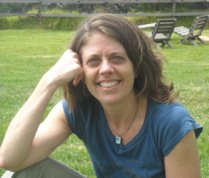 Office:
2049 NW Hoyt St.
Portland, OR 97209
Contact Information:
Phone: 503-313-5733
Email: katjewagner@gmail.com
Webpage: www.katjewagner.com
I came to Process Work because it brought my worlds together…the things that feel essential and inseparable about Life itself. The Body. Relationship. Social forces. Nature and spirituality. In this integrated web, I found a home for facilitating the complexity that lives in me, others and our world.
My original passion and training began with dance, theatre, and performance. This early love for movement and creative expression took me further into the body, eventually becoming a massage therapist, midwife's assistant and doula, and yoga teacher.
I now work as a holistic psychotherapist and creative consultant. I specialize in working with physical health issues, collaborating with other healthcare practitioners to work with body symptoms from a holistic perspective. I'm also completing a PhD in Clinical/Somatic Psychology, researching women's experiences of fulfillment. I'm excited to be exploring the diverse ways in which women find and navigate fulfilling life paths.
Deep down, I believe in that which makes us come alive…and the healing, growth and possibility that inspires.
GENERAL
Years in Practice: 4
Avg Cost (per session): $100
Sliding Scale: Yes
Accepts Insurance: SomeEDUCATION
PhD Clinical/Somatic Psychology, Santa Barbara Graduate Institute (in progress)
Certified Process Worker, Process Work Institute
MS Counselor Education, Couples/Marriage/Family Therapy, Portland State University
BA Communications with Emphasis in Gender Relations, Occidental College

LICENSE
LPC Registered Intern

AFFILIATIONS
United States Body Psychotherapy Association
International Association of Process-Oriented Psychology

SPECIALTIES
Holistic Health & Body Symptoms
Women
Fulfilling Life Paths
Creative Expression, PerformanceFACILITATION
Health equity and diversity
General conflict and relationship work
Creative projects and performance

RESEARCH (PW International)
Focusing as therapeutic modality
Multiple role relationships
Fulfilling intimate partnerships
Fulfilling life paths