Vassiliki Katrivanou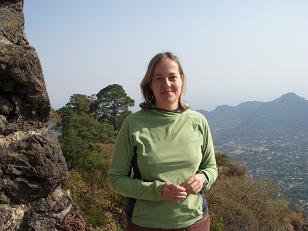 Office:
2049 NW Hoyt St
Portland OR 97209
Contact Information:
Phone: +306946016608
Email: vassilikikat@gmail.com
Vassiliki works internationally as a therapist, educator and group facilitator. She is a faculty member in the Diploma Program and in the Masters in Conflict Resolution and Organizational Change Program at the Process Work Institute in Portland, Oregon. She is a trainer in the Process Work Center in Greece.
Her more recent work with non-governmental organizations focuses on women's empowerment and support of marginalized populations (Chiapas-Mexico, Palestine). For the past years she has been part of the facilitation team in conflict resolution trainings between Israelis and Palestinians. She is facilitates workshops with Greek and Turkish Cypriots on issues of reconciliation and community building. She has facilitated group dialogues between Moroccan and American students in Morocco in the context of the film "Crossing Borders" (www.crossingbordersfilm.org).
Her main interest is in group work, conflict resolution, women's empowerment, and the interconnections between politics, psychology and creativity. She explores how awareness and access of personal wisdom is crucial in working with conflict. She is also interested in working on sexuality as a way to access our vital and creative energy and to connect with others and with the mystery of life. She explores filmmaking as a medium for social change.
Vassiliki, in collaboration with Bushra Azzouz, has produced a documentary, "The Women of Cyprus" (www.womenofcyprusfilm.com), which portrays how a group of Turkish and Greek Cypriot women handle conflict, explores the hidden histories of the divided island, the meanings of safety and home, and the women's will to live together again. The documentary has been screened internationally (Cyprus, Greece, Israel, Palestine, U.K., U.S.A, Mexico).
GENERAL
Years in practice: 15
Agv Cost (per session): $70
Sliding Scale: Yes
Accepts Insurance: NoEDUCATION
MA in Conflict Resolution,
Portland State University, 2008

Diploma in Process Oriented Psychology,
Process Work Institute, 2005

MPW in Process Oriented Psychology,
Process Work Institute, 2005

BA in International Studies,
Portland State University, 2002

Graduate Training in Family and Group Therapy,
Athenean Institute of Anthropos (AIA), 1993

LICENSE
–

AFFILIATIONS
International Association of Process Oriented Psychology
Global Process Institute

SPECIALTIES
Conflict Facilitation and mediation
Women's Empowerment
Sexuality
Art and Social ChangeFACILITATION
Group and Organizational Work
Relationships and Couples
Open Forums

RESEARCH (PW International)
Shamanism and Community Building
Media and Social Change
Sexuality and Spirituality

PUBLICATIONS
2005, "On Conflict, Gender and Nationalism in Cypriot Society: Beliefs and Contradictions. " Annual Review of Critical Psychology: Feminisms and Activisms, 4, Manchester, UK,
2005, "Meeting with the Other." Unpublished MA Contextual Essay on the Documentary: "Meeting with the Other", PWI
2008, Women of Cyprus, Unpublished MA Contextual Essay on the Documentary: "Women of Cyprus", Portland State University