Online Intensive 2020
Registration now open!
Online Intensive December 2020
Workshops, Special Events, Networking
December 5-17, 2020
Winter Intensive Alumni Gathering
Come join us at a very special, COVID inspired online Intensive Reunion!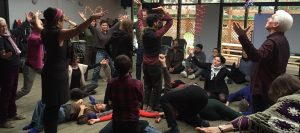 The Intensive Course in Process Work has been an annual event since 1986. Many of our graduates first met at these deep, community experiences. Many friendships were forged, professional and intimate relationships were established.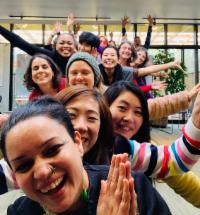 This year due to extraordinary circumstances we are offering an on-line experience to re-connect community and offer a path for more in depth Processwork learning.
We are excited to reunite with past Intensive Course participants, although anyone who has had a beginning introduction to Processwork is warmly invited to attend.
Registrations now open
Click the links to find out more and register:
Join for one week or two – attend live, or catch up with recordings available to view till Dec 31.  Join the participant discussion forum, catch up with old friends, and connect with new ones.
Welcoming participants from all over the world with ten days of activities accessible to different time zones, or catch up with video recording access. You can attend both weeks, one week or even individual sessions.  Workshop program curated by Dawn Menken.
Week 1: Dec. 5-10th, 10am-1pm
Saturday, Dec 5th:
Childhood Dreams and Chronic Symptoms, Susan Kocen
Sunday, Dec 6th: 
Facilitator Style and 2nd Training, Aleksandr Peikrishvili
Monday, Dec. 7th: 
Myths, Roles and Long Term Patterns in Relationship, Dawn Menken
Tuesday, Dec. 8th: Worldwork and Hotspots: Staying with it, Working at the Edge and Following Process, Rhea Shapiro
Wednesday, Dec. 9th: Working with Addictions, Kas Robinson
Thursday, Dec. 10th: Innerwork, Group Process, Open Seat, Gary Reiss
Week 2: Dec. 12-17th, 3-6pm
Saturday, Dec 12th:
Dreambodywork and Life Path, Jai Tomlin
Sunday, Dec 13th: Process Work and Creativity, Lynn Lobo
Monday, Dec. 14th: 
Coma Work and Near-Death Experiences, Ingrid Rose
Tuesday, Dec. 15th: Process Work Applications to Organizations, Errol Amerasekera
Wednesday, Dec. 16th: 
Facilitating Power and Oppression in Relationship, Jan Dworkin
Thursday, Dec. 17th: Innerwork, Group Process, Open Seat, Dawn Menken and Errol Amerasekera
We're sorry, but all tickets sales have ended because the event is expired.
Online Intensive 2020


December 5, 2020 - December 17, 2020




8:00 am - 5:00 pm